Sometimes I aim to please but mostly I just shoot to kill.
Thirty something Mexican Curious. Se habla español. Atea, roja, duermevelas, lectora. Books, reading, movies, photography, illustration, cats, and a LOT more.
My Blogs:
Esta Boca Es Mía Vida y obra de una loca con glamour (Es decir: lo que esta chica escribe. Poemas, cuentos, relatos y más).
Proud member of the Bookporn team.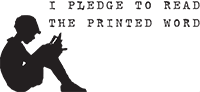 El libro de mis abrazos Colección de inspiraciones: frases que me brotan, frases de libros que me gustan y otras curiosidades. Mostly in Spanish, a collection of quotes from the books I read and from my own inspiration.
Keep It Kinky My Not-So-SFW blog
Twitter
Goodreads
Last.fm